BRUSSELS SPROUTS
Usually, I hear them called Brussel sprouts in the US,
(I'm going to spell it that way for search purposes)
but they're actually Brussels with an S.
There's your language lesson for the day :)
Click here to see them on their stalk.
This recipe is an adaptation from our family last minute meal (sautéed smoked sausage with BBQ sauce over rice). Put the rice cooker on then do the rest and you're eating a 3-ingredient hot meal in about 30 minutes. Stock up on smoked sausage (whatever meat or flavor, they're all tasty) when it's on sale (I get them at about $2.50 each) and store in the freezer. Defrosting isn't really necessary (it's easy to cut if you have a decent/sharp knife); sitting on the counter 15+ minutes will help it thaw a titch if you need help.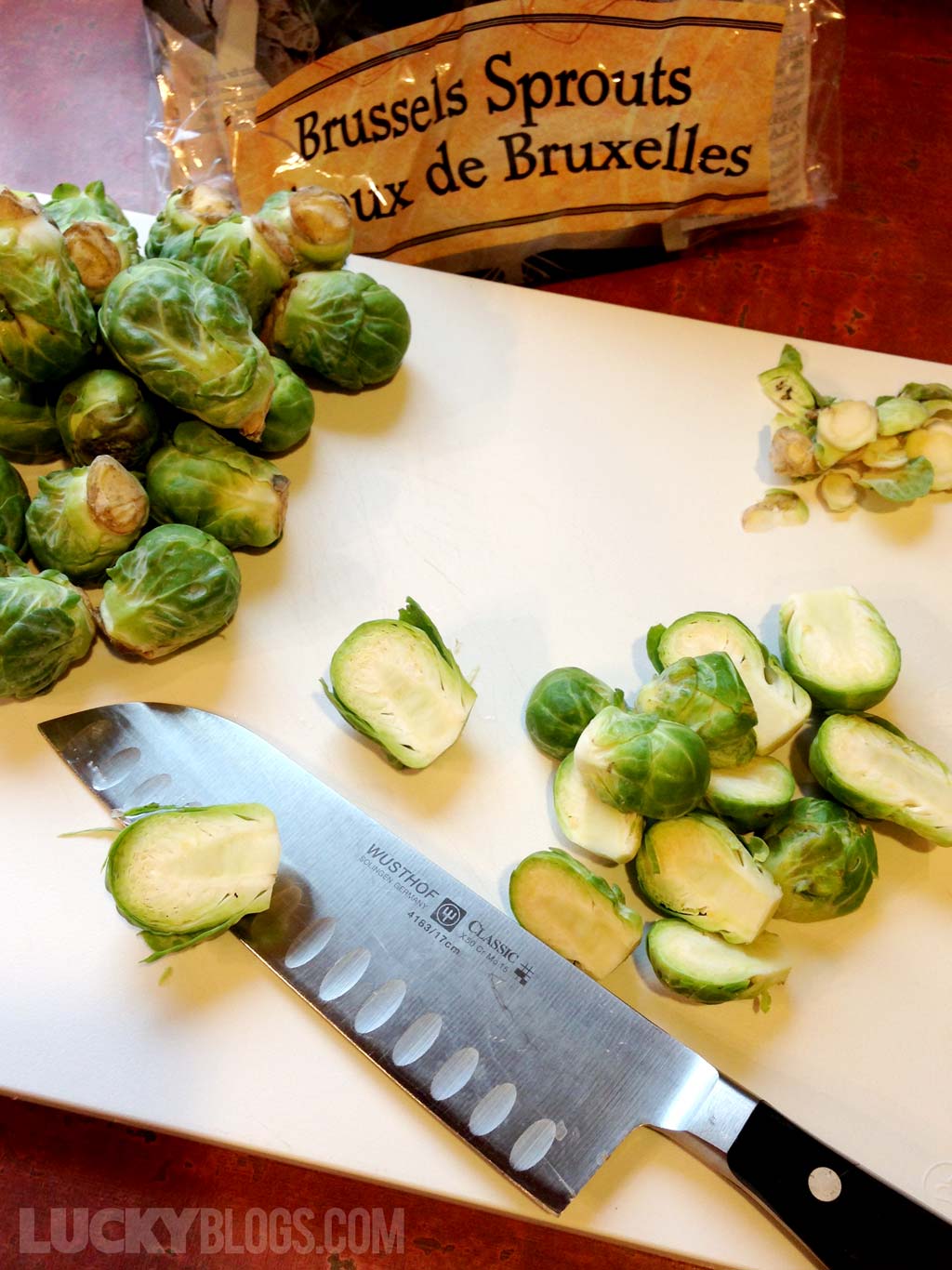 Brussel sprouts can taste dumb if not flavored right; the sausage takes care of that (no extra seasoning in this recipe, EASY!) We cut the brown stumps off the bottoms then cut them in half. Leaving them whole will take longer to cook; I'd risk not cooking them enough and have the innards raw (nobody wants that) and the outtards shriveled to bits. Aren't they the CUTE cut in half? (Yes, my voice squealed saying that.)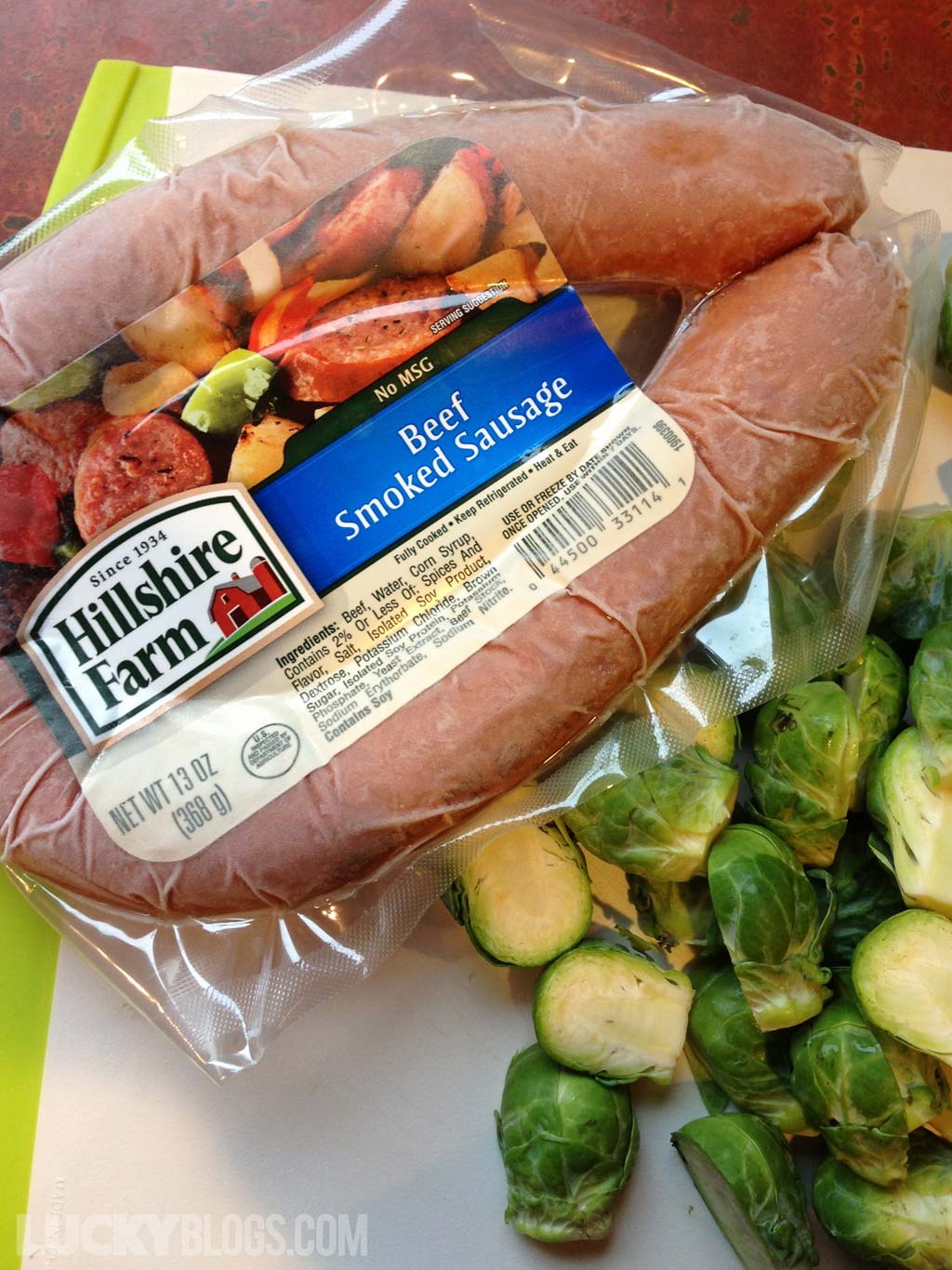 See? The Hillshire Farm sausage barely came out of the freezer. Peeling the package open is fairly easily unless you have wet hands. We cook a whole package for our family of four, with a serving saved for lunch the next day. Cut it length-wise in half then into bite-size slices, about 1/2″ (however big your mouth can fit).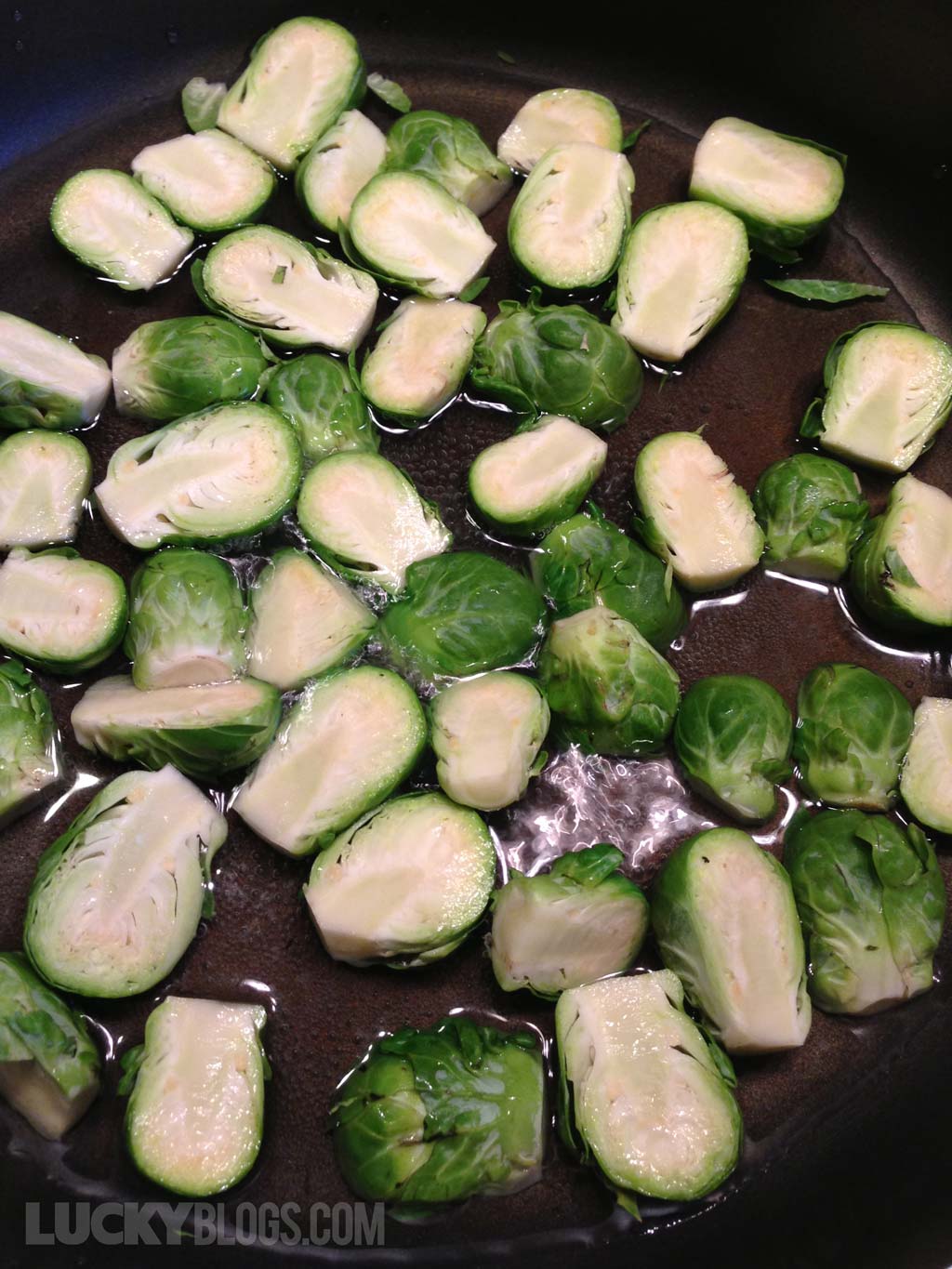 Sometimes I accidentally don't follow my own recipe (please don't let me be the only one who does that). Forgot I was going to cook the Brussel sprouts after the sausage, in their drippings for browning, but put them in water to boil/steam instead. This recipe can't be messed up with as few ingredients as there is. Look how PRETTY the cute, little sprouts are skinny dipping together!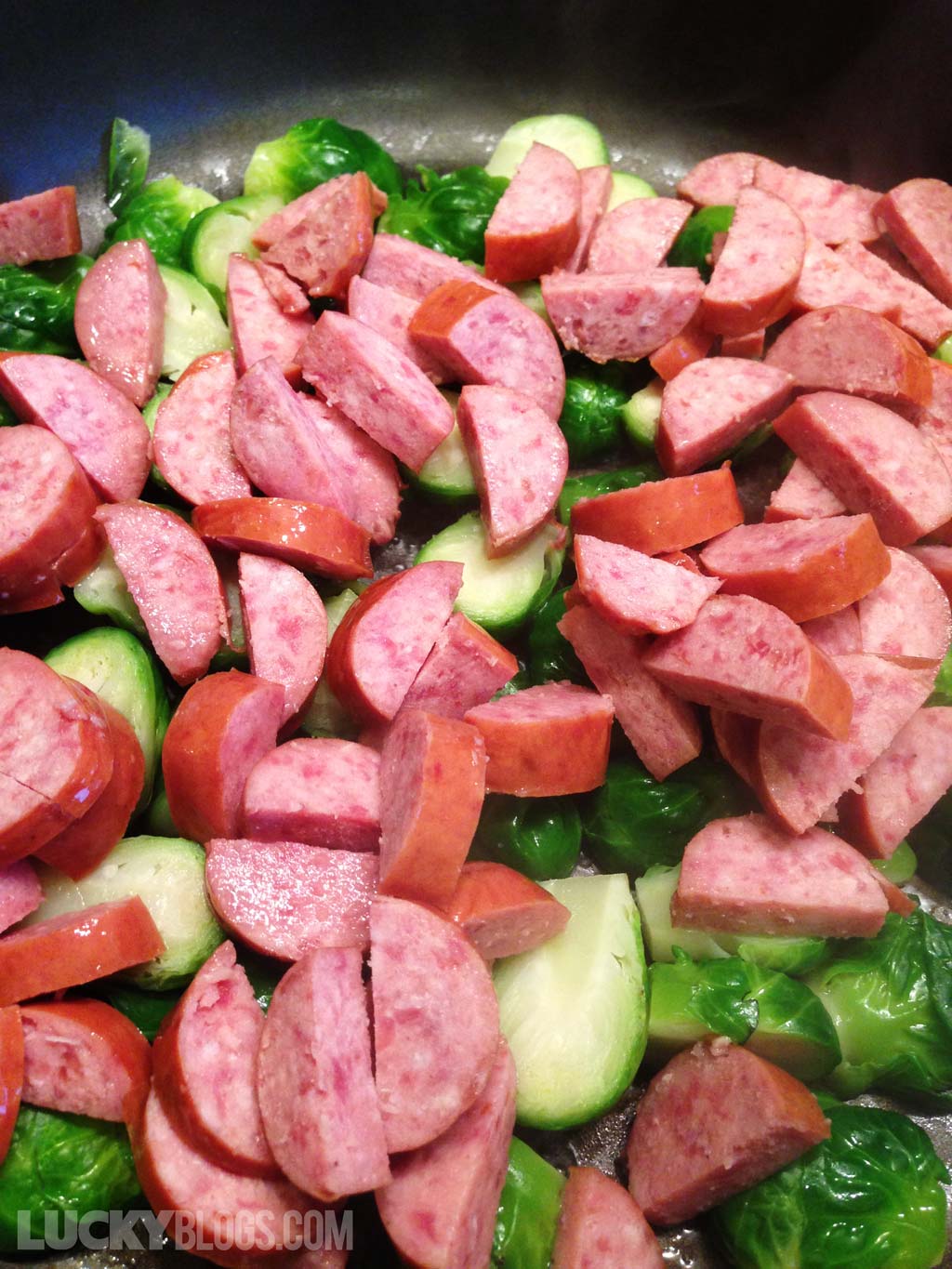 After I accidentally steamed the Brussel sprouts (instead of precooking the sausage), I added the sausage bites to the pan and let them all hang out, mixing, mingling and cooking. The sausage is precooked, so this step is mostly to heat and brown them.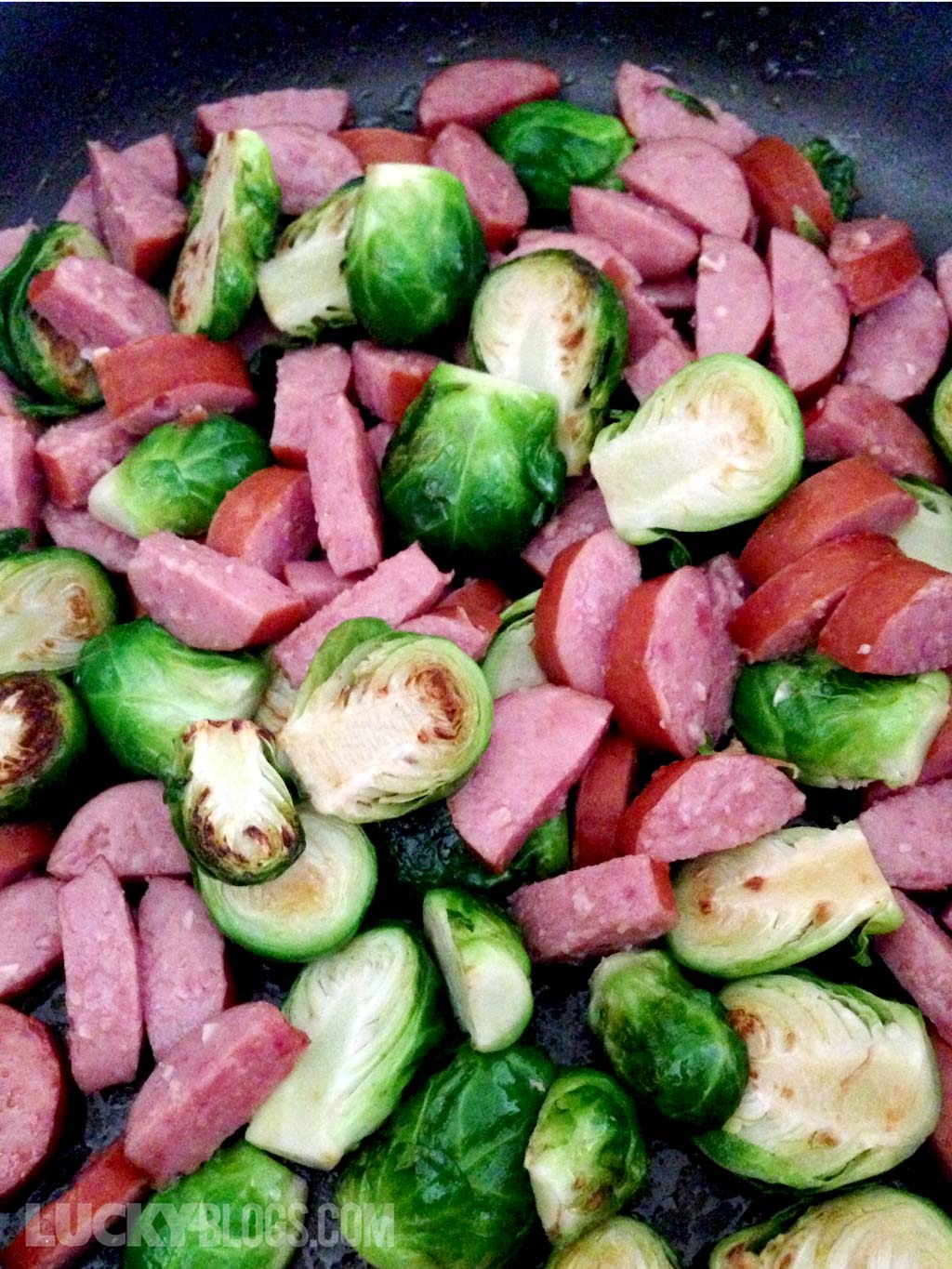 Look how happy they look! So pretty! In case you serve this to someone who's never had Brussel sprouts before, my kids say they taste like a cross between broccoli and asparagus… with a hint of cabbage.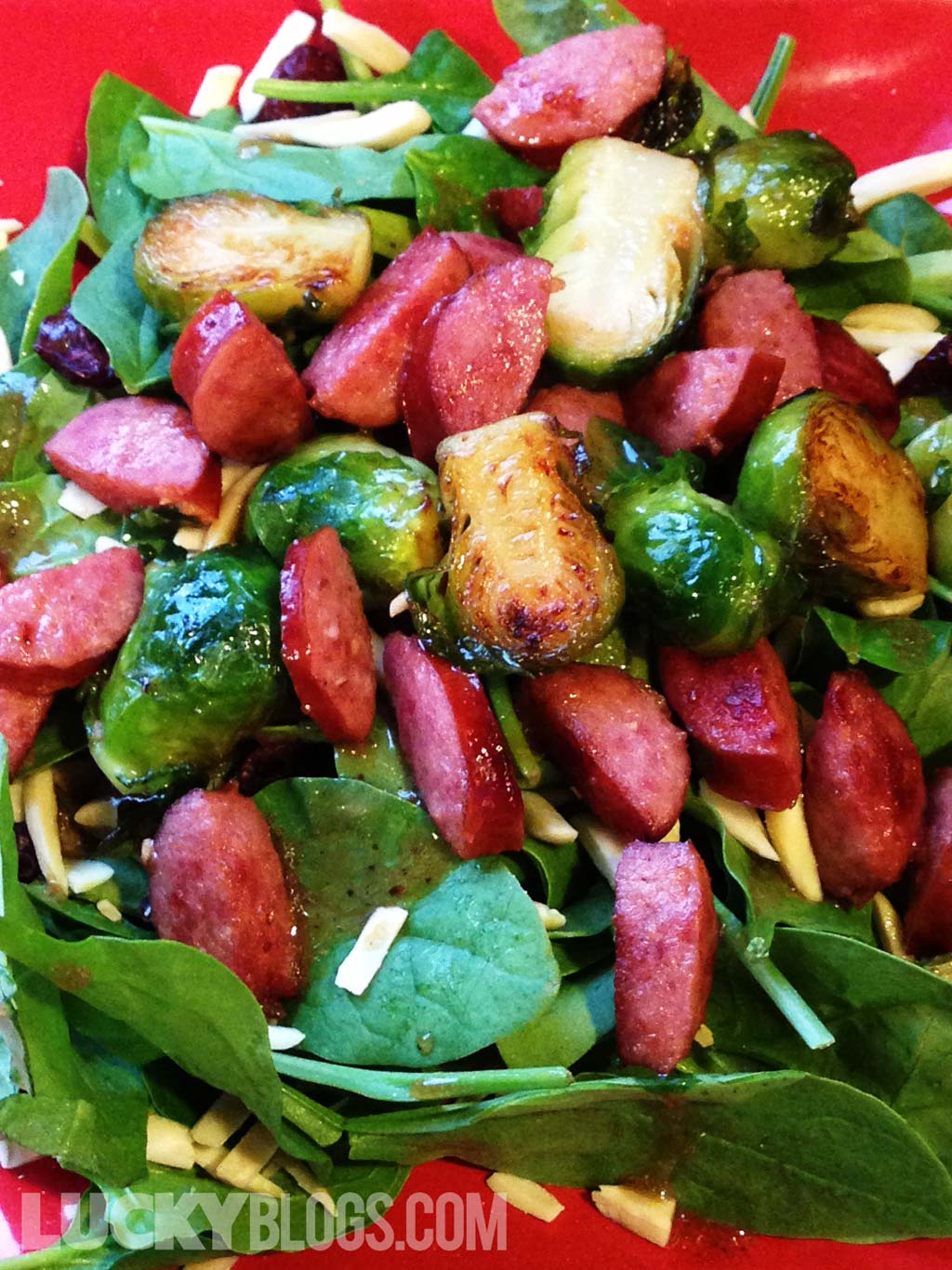 The rest of the family puts theirs over rice, but I've been tracking my calorie intake with My Fitness Pal on my smart phone (lost 15 pounds in 55 days) so I throw down a giant handful of spinach then sprinkle whatever I have on hand: sliced almonds (from the freezer; keeps longer), craisins (jar in the pantry), mandarin oranges (canned), fresh mushrooms (if we have them), coconut flakes (jar in the pantry), pineapple bits (canned), red onions.
Another good thing about this recipe is that it flavors itself so you don't need to add extra calories in a dressing or sauce!
THE INGREDIENTS
Smoked Sausage (any variety)
Brussels sprouts
Cooked rice and/or salad greens
Optional: other toppings
THE RECIPE
Cut the sausage in half length-wise then into 1/2″ slices, sauté in frying pan over med/high heat until browned, scoop out into dish to reserve until the end. While the sausage is browning, cut the brown ends off the Brussel sprouts then in half, brown in sausage drippings (after the sausage has been scooped out into a reserve bowl) over med/high heat about 7 minutes or until they are softened. Toss sausage and sprouts together then serve over rice or spinach.