Want to see three months of your summer calendar all at once on a regular sheet of paper like the picture below? Okay!
Having the whole summer 2017 calendar on one page helps everyone in your home know what is going on at a glance without having to flip between months on a wall calendar. Oh, don't get me wrong, I still like having pretty wall calendars by the month, but a one-page calendar for the summer is pretty handy.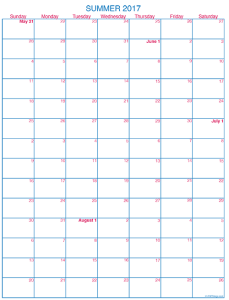 Click on the photo or here to open the full-resolution PDF that you can print right at home!
Happy Summer!