This is the hardest post I have ever written. If you have had a beloved pet pass on, you might know how hard this is for me. If you know someone whose beloved pet passed on and want to show your support, maybe this post will help.
There was a horrific accident with our sweet pooch, Posie, a.k.a. #StalkerDog on Instagram, while we were on vacation in January. She is gone.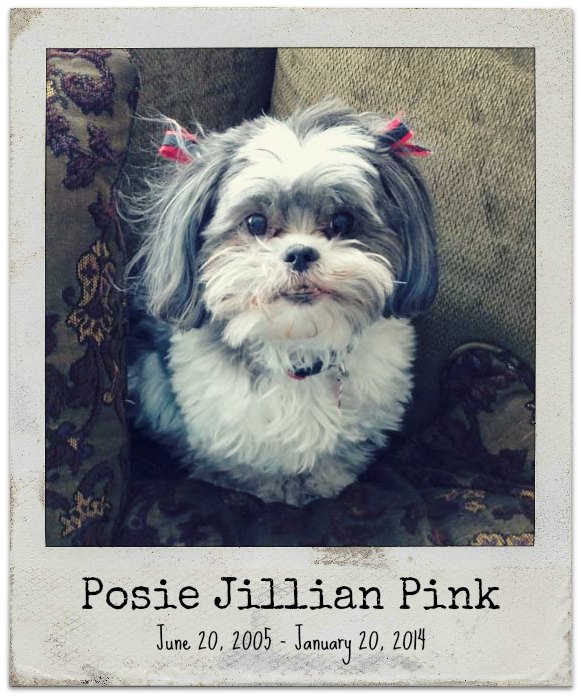 As devastating as it was to hear, I also felt deep sorrow for our friends who had to tell us the news, take care of the situation, and break it to their daughter who was in charge of our pooch but not home at the time (thank goodness she wasn't there to witness it).
I've been asked if I blame them. That never crossed my mind. We dearly love them like family and knew they loved her as if she was their own. Accidents happen, it wasn't on purpose or out of neglect. Forgiveness heals broken hearts, blame just hurts everyone.
Loss of a Pet
Dealing with the loss of a pet is different for everyone. Some may want to talk about it (not me, and I talk about everything). It's been about three months and we've told only a handful of people because the very thought of her gone sent me into an automatic panic (sometimes it still does; especially when I know the person mentioning her loves me, empathy seems to make it worse). I wallowed in depression (and find myself tipping back into it if I'm not careful) without my little buddy.
Yes, I had my loving husband and children, friends who care, and even support from our dog's groomers. The entire shop signed and sent a condolence card after my bumbling phone call where I attempted to tell them but all I could get out was, "Amy, this is Shannon…" then fiercely ugly cry in between Amy guessing something happened to Posie (she knew her 9 years, her whole life). I spent the rest of that day in my darkened room, eyes swollen from intermittent crying on my soggy pillow.
Depression
Depression doesn't play fair, doesn't care about who loves you, and can stick around no matter how badly you don't want it to.  We decided long before that we wouldn't get another dog if something ever happened to her. But a few months without one made us realize that we are a dog family and my husband pretty much demanded I get a canine companion to pull me out of the depths of despair. He didn't care how big, how little, how young, or how old but I had to find our new family member ASAP or seek professional, psychological help. I never thought I'd be someone who couldn't help how I felt (I was acting the opposite of how everyone has known me).
I really wish I didn't react the way I did and hole up, but as much as one thinks they are prepared for the inevitable, inevitable sucker kicks them in the stomach and laughs. You can't prepare for how you'll handle death the way you can prepare for a test. Grief is surprising and is near impossible to anticipate when it will hit.
One Way of Healing
I found a new-to-me poochie (she's 5; I really feel it was divine intervention how she came to be ours – it's a good story I might tell you later). We've had her two weeks and she fits in perfectly with our family! Having her has helped heal my aching soul with doggie kisses and cuddles. She's not replacing Posie but instead is taking over where she left off. No matter how much you love, there's always room for more.
Grief Relief
Rainbow Bridge is a common pet loss and grief poem that has helped many people cope with the passing of their pet. Reading it got me thinking of ways I would like to be reminded of her and how I'd like to pick up my beloved pet on the way to heaven (granted if that's where I'll be going, of course; fingers crossed).
We have a view of six cities from our living room. In the summer on clear, calm days we see hot air balloons slowly make their way around the sky. I'd like to imagine I'll float up in one of them when I'm done on earth and pick up Posie and my other critters on my way back home, beyond the clouds. Even if you don't think it plausible, it gives me comfort. Thinking of my sweetheart happily playing with other critters while waiting for me replaces some of my grief with peace.
Free Printable
You're welcome to download this free 5×7 printable for yourself or to give to someone who might need some encouragement. Please give credit of the design and wording to LuckyBlogs.com as it was created by me as a gift to those seeking grief relief. It can work for any kind of pet, not just a dog. Pin it to Pinterest and share it on social networks if you think it could help others who are grieving the loss of a pet.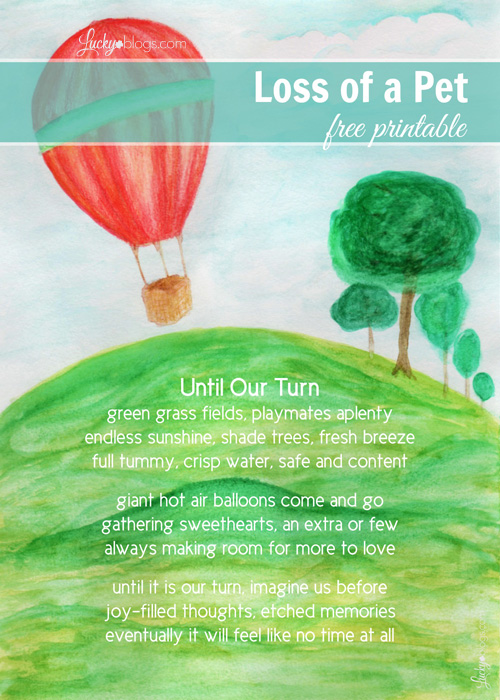 Click here to download the "Until Our Turn" printable 5×7
(the printable will print without the Loss of a Pet text and banner)