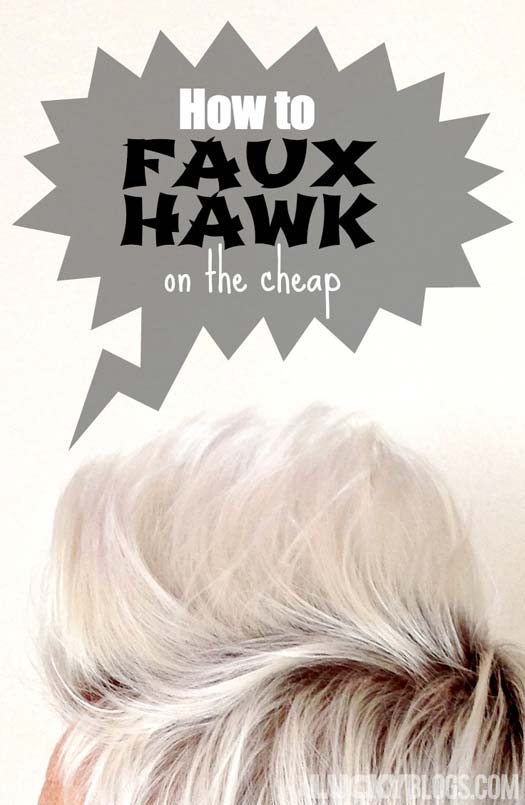 Beautician I am not, but when enough people dig my 'do (every day I get complimented on my hair by strangers) and ask, "How do you get it to stick up like that," I figure someone out there might want an instructional. If not, you may find these non-flattering photos of me entertaining. I use minimal/cheap products because I'm broke, not because I have anything against expensive goop. By all means, you're welcome to send me the expensive stuff.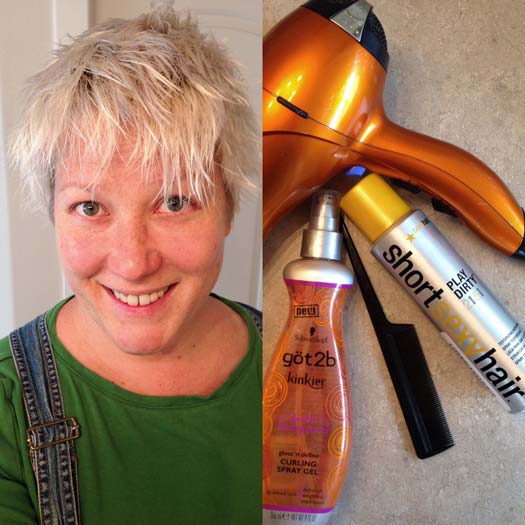 Straight out o' the shower (except I got dressed, which I rarely do because it makes me sweaty) and excess water rubbed off with the towel. My four supplies are: hair dryer, göt2b kinkier spray gel (because that's what I have on hand; I use it to add oomf as I dry, but I suppose almost any other gel or mouse would act the same), short sexy hair's Play Dirty texture spray, and a fine-tooth come with pokey handle. Oh, and I use my fingers, so five. And it helps that I get my hair bleached (as you can see by my roots), which aids in the texture adding process.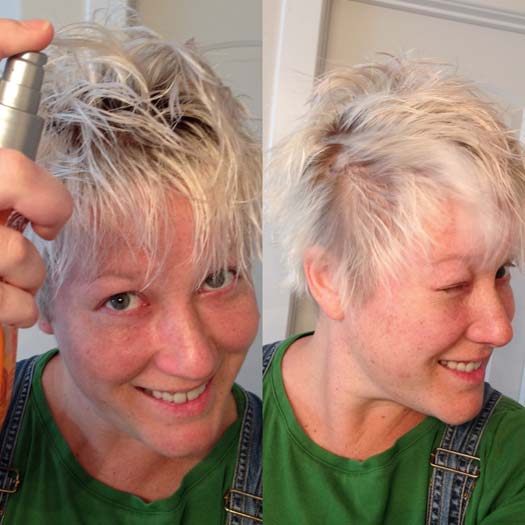 SPRAY GEL
I lift my hair and spray the gel into the roots then blow dry the sides forward.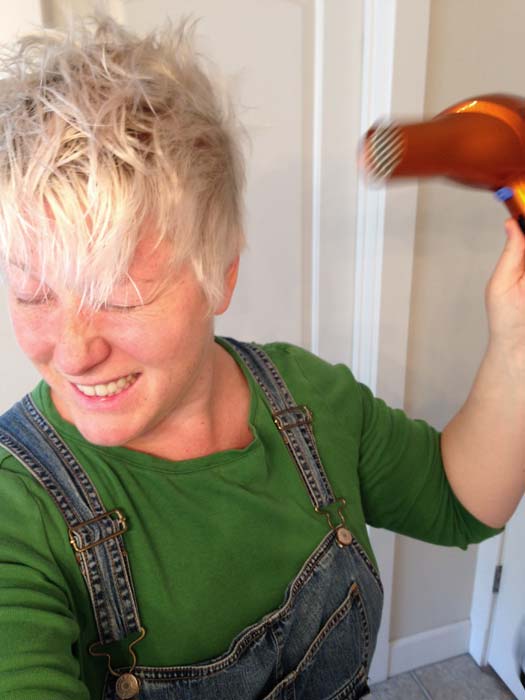 DRY
This time my sides didn't dry right… probably because I was nervous about taking pictures by myself for you instead of using two hands to guide the hair.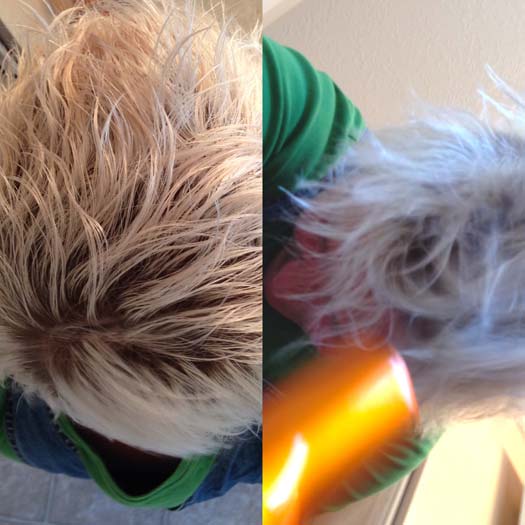 With the hair dryer above my head, I dry the back down from the crown (unless I'm continuing the hawk down the back like a fin, at which point I'll pull and dry the hawk hair out), then flip upside down and dry the top into a faux hawk direction.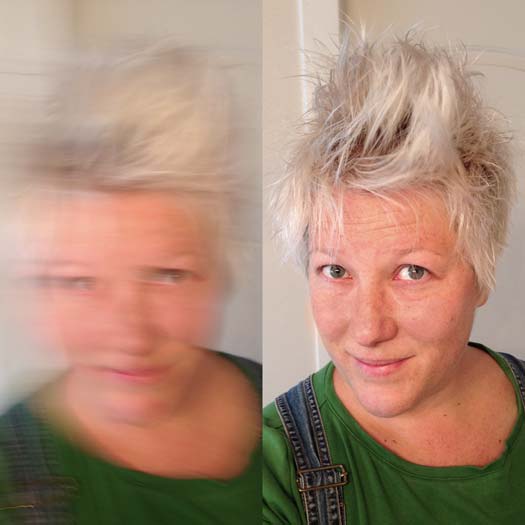 Shake the hair to cool it (rumor has it the cooling process is what helps set your curl/straight/whatever) to end up with a messy mop.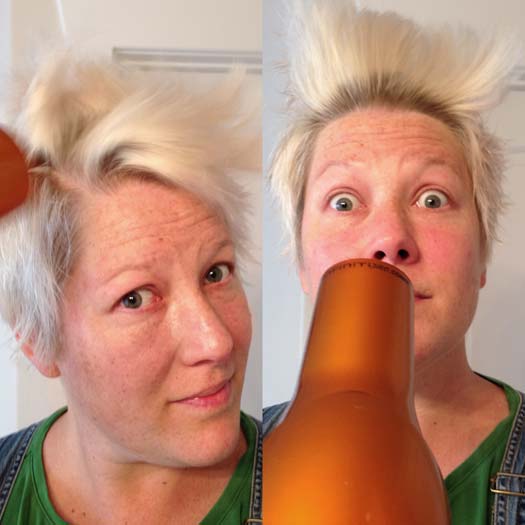 Then I blow dry those pesky cow licks I have toward the middle, then the front up and backish. Usually my other hand is aiding in the directional process (but in the pictures I was using that extra hand to take pictures for you).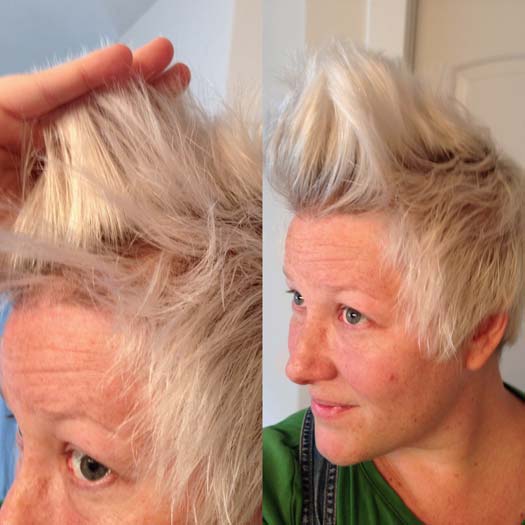 When you're operating with two hands, you can pull your hair the direction you want them to dry and blow dry them that way to train where you want them to go. This doesn't always work out as planned, so my end style might be different than what I had in mind. I don't argue with the hairs, they're stubborn buggers.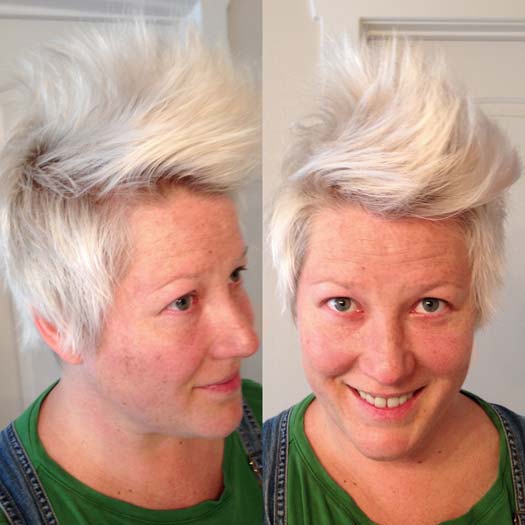 Dry and half way there.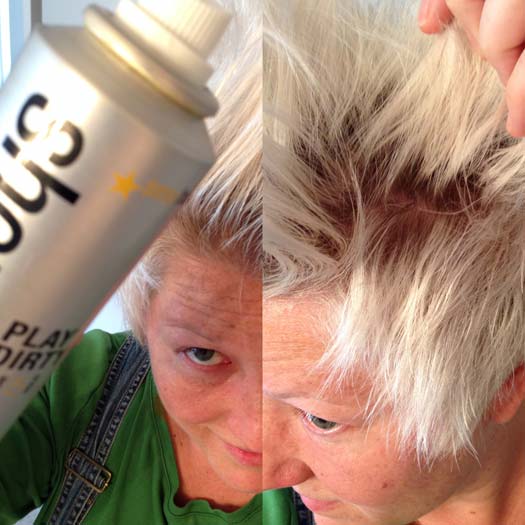 SHORT SEXY HAIR : PLAY DIRTY
What's up, short sexy hair? Oh, my faux hawk is up? Niiice come back! Burst (instead of long sprays) the Play Dirty into the roots for texture but don't go too crazy or it'll get heavy and be a giant hair fail (greasy and disagreeable; add dry shampoo if this happens). You can always add more, so chill out.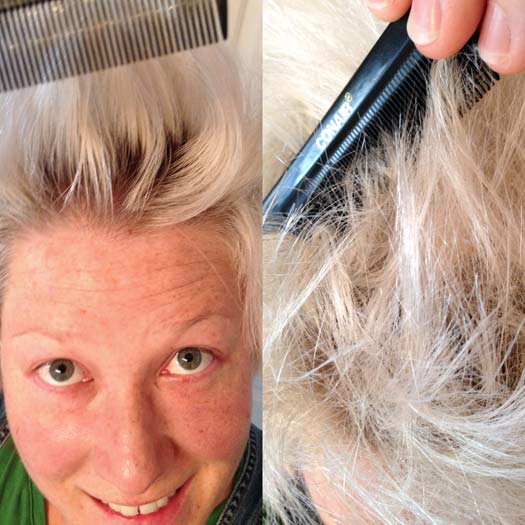 FINE-TOOTHED COMB
Back comb, tease, rats nest or whatever you call it when you scrub the fine-toothed comb from the ends toward the roots to create slight knots all along the faux hawk trail. Go crazy here, for the most part, unless you have super thin hair and won't be able to hide the clumps (then you might concentrate on the roots and not on the ends or outer hawk as much). I have a lot of thin hair, so it works for me.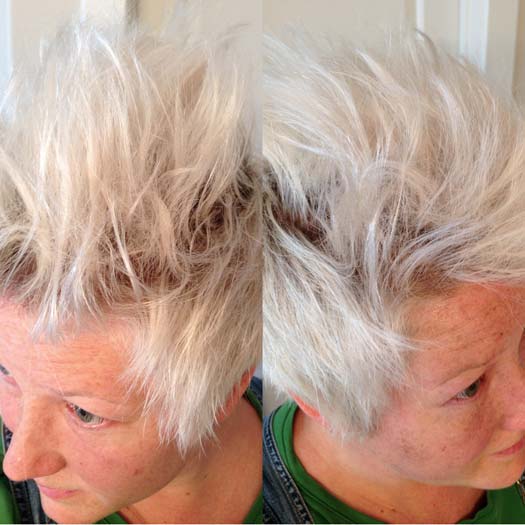 This looks almost Walmart-ready, but let's do a little more to be Target -ready (fancy)!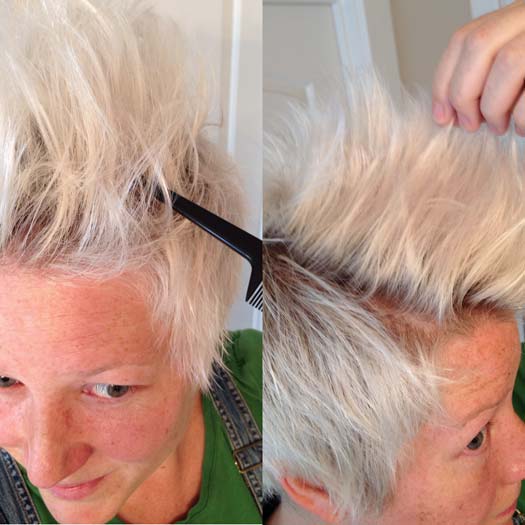 Use the pokey end of the comb to help spots that need directing or filling in and your fingers to aim it all up, up, up. At the moment my hair is super long for this style (I should be doing something different with it or go get it cut), so sometimes I'll style it off to the side in a 45 degree angle. This is the stage where you decide the direction it'll end up going. Or it decides, winner takes all.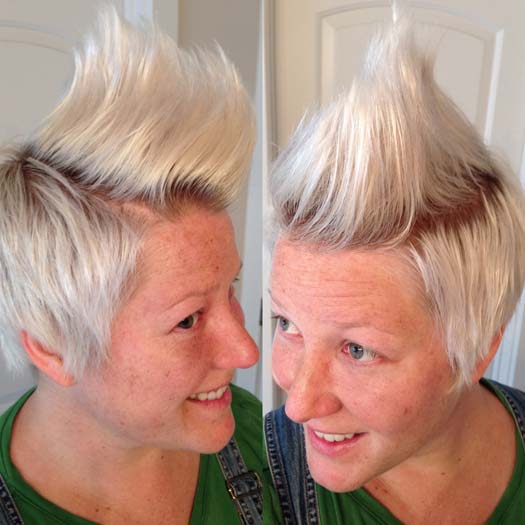 The sides are too long to give them a shaggy tussle forward, but you get the idea.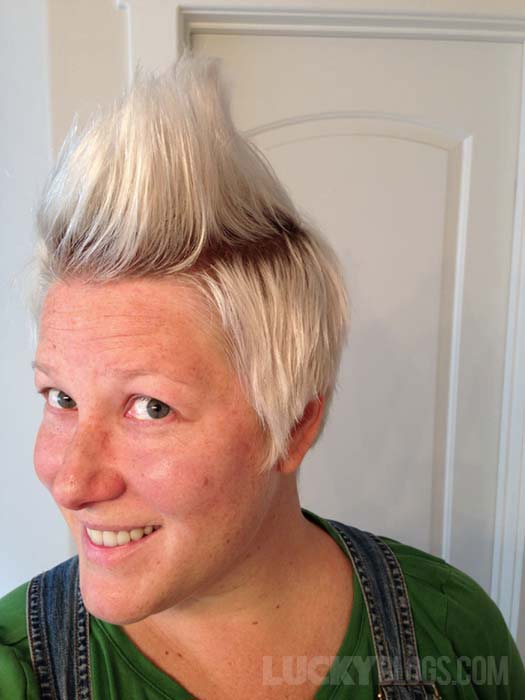 Tada! Faux hawk on the cheap being all straight and tall.