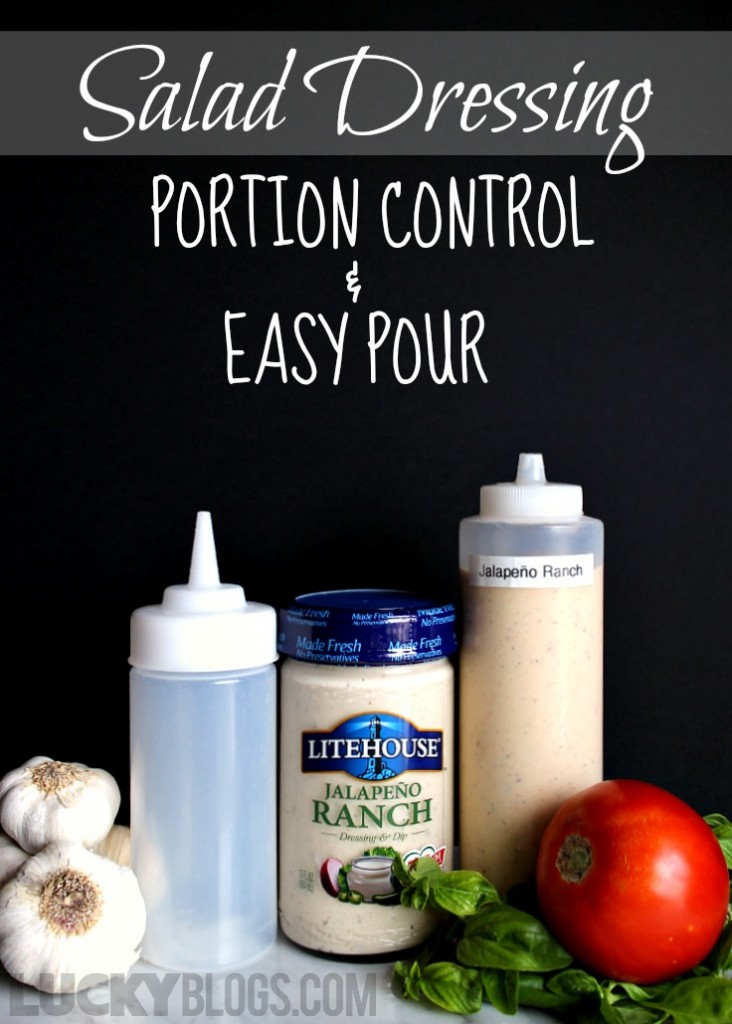 If you like ranch dressing and a wee bit o' sass to your food, try the Jalapeño Ranch dressing & dip from Litehouse. It's not "spicy" but it does have a kick. For reference, I'm a zero to one star Thai food girl, prefer mild salsa to medium, and like to sprinkle a little Tabasco sauce on my scrambled eggs.
What's with the GIGANTOUS hole in the top of salad dressings that pour buckets of it on your lettuce? Calorie counting lately with My Fitness Pal curbed my dressing habits. Instead of pouring it on, I dip my fork into it then stab a bite of salad. Still get the flavor without the calories I can use later on a snack.
I have a solution for the never ending pour… find a restaurant supply store in your area for plastic squeeze bottles (up to $2/each; I've seen them elsewhere but find the restaurant supply stores to be much cheaper). Ours is Gygi in Salt Lake City, Utah. I could spend hours oohing over the stainless steel mixing bowls in about every size, cake decorating accessories I've never seen, kitchen tools I didn't know I needed, shelves of flavored syrups and sauces, and stacks of paper goods for entertaining or, let's be honest, avoiding dish washing duties.
Buy a plastic squeeze bottle (note the size needed; this dressing fits almost to the top of the taller bottle), pour your dressing into it, snip the lid with kitchen scissors (if necessary; this dressing is thicker so the hole needs to be bigger) to the desired size, and label the outside with a label maker, Sharpie, vinyl lettering, or whatever you can dream up that will stick on plastic and is washable. Make sure the plastic is squeezable; some squeeze easier than others.
Other squeezable stuff could go into these handy and cheap containers (helps cut down on refrigerator shelf space, too): sour cream mixed with a little water to help it flow, chocolate sauce, caramel sauce, mayonnaise, condiments, or whatever else you like to squirt. We've had sour cream stay fresh for months.
There usually isn't a lid to these guys, but we haven't noticed any problem with that. Maybe the hole is small enough that it doesn't matter?