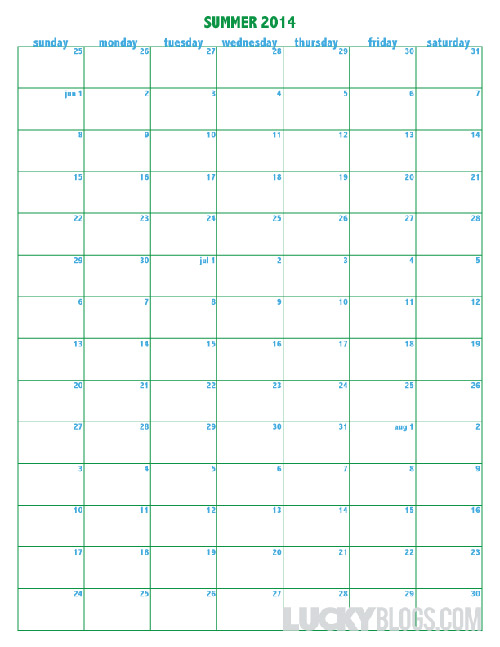 Summer 2014 Calendar
Saw a handy one-page calendar of the summer month's online but the squares were too tiny to fit some of our serveral-per-day activities (plus I like to write BIG) so I made my own that fits snuggly on a typical 8.5 x 11 sheet of paper.
May through August
The end of May through the end of August are all smooshed into this simple, yet effective, calendar grid, for you to fill in and visualize how crazy busy (our July is nuts) or relaxed (thank goodness for a slower mid to late June) your schedule will be.
What We Have Going On
Is your summer crammed with activities, classes, get togethers, and adventures? The kids have their things, we have our things, then we have stuff together. The boy has Scout camping in Moab (if you haven't been and get the chance you should!), the girl is looking forward to art classes (have you seen some of her clay creations on my Instagram feed?), the husband is scouting locations for his next short film (did you know he collaborated with his brothers and others a couple years ago on a short film that won awards at several independent film festivals in the U.S.?), I have the Reclaim Yourself Craft Retreat in beautiful Heber, Utah (check out the website for future dates if you'd like to relax while getting your craft on!), and we all have our every-couple-of-years family reunion near Yellowstone National Park.
Yellowstone National Park
We'll be near the West Yellowstone entrance. Have suggestions for us on what to see, what to miss, and where we'll have the best luck to safely view wildlife (particularly buffalo)?
Click here to download the "Summer 2014 Calendar" printable 8.5 x 11
Pin by clicking the Pinterest logo on the photo above and share it with your followers!