What To Do in San Francisco
I didn't know what to do in San Francisco with kids on a minimal budget before this trip but our first attempt was a hit! We were there a week, so I broke it down into seven posts…
Downtown
San Francisco Bus Tour
Muir Woods National Monument (the giant Redwoods)
China Town
Mavericks Surf Beach
Jelly Belly Factory Tour
Private 'ish' Beach
We got lucky by staying at a friend's house who was out of town (they invited us, we didn't break in) and drove from the Salt Lake City, Utah area to avoid paying for flights and a rental car (stayed overnight near Reno; couldn't imagine busting all the way there in one day). Another family came with us and pooled together what they knew with what we could find on the internet  then we narrowed our list down to one spendy activity and spread the rest evenly throughout the week.
DOWNTOWN SAN FRANCISCO TIPS
Out of all the places to go, narrowing the list and mapping it out before we arrived helped manage expectations and time. We couldn't see everything, dropped some activities from our list, and left the schedule open to explore as we wandered along.
Pier 39 & Fisherman's Wharf
Things to see and do in the Pier 39 and Fisherman's Wharf area can be daunting. We popped into shops along our stroll with shelves and hangers overflowing with souvenirs, tchotchkes to remind us of our visit. The most famous there, I believe, is the Boudin Bakery with its ample gift section, gourmet breads, hot soups, crisp salads, and fresh sandwiches.
Boudin Bakery at Pier 39, also known as Fisherman's Wharf or the Festival marketplace, is rightfully famous for their sourdough. Our two adult, two kid family split three bread bowls of creamy white clam chowder (one each would've been too much), that hit the spot for all our walking that chilly day.
As you make your way toward the entrance, there's a wall of glass with bakers behind it creating specialty breads (turtles!) while asking and answering questions through a speaker piped outside. This baker gave us history about the bakery (her photo is on the official site so she was legit!)
MANAGING FOOD COSTS & EATING OUT
Food options around San Francisco are aplenty. The hard part isn't finding a place to eat, it's narrowing down how many of them you want to hit and can afford! Unless you have an unlimited food budget, eating out for every meal isn't an option. Curbing our have-to's from our want-to's kept a handle on the pocketbook by eating breakfast at the house then planned for one meal out per day. On our longest day out, we packed a lunch, saving $40-50.
The movie buffs wanted to try Mel's Drive-In. George Lucas filmed American Graffiti at the original Mel's before it was bulldozed in the early 70's. Mel's son resurrected the drive-in in 1985 and now boasts two in SF, two in LA, and full-scale replicas at the Universal theme parks in FL and CA.
We were surprised the food was good! It's not just hype and nostalgia, it's a fun experience for the whole family with 50's decor, witty menu descriptions, friendly staff, and plenty to eat! It was also the place where I saw my first real nun in full habit! I was (pinches fingers together) this close to asking her if I could get a photo, but felt a twinge of irreverence and didn't.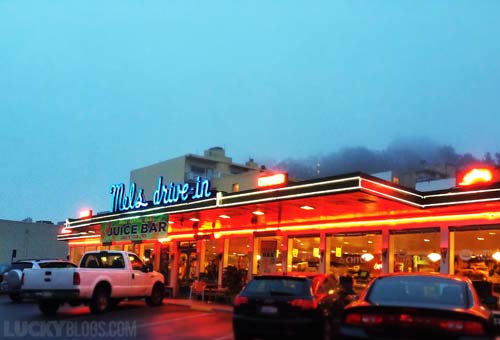 Juban Yakiniku House brings prepped meat for you to grill at the smokeless table grill. We tried the tiny one on Burlingame's quaint old main street. Although we left lightly smelling of cooking oil, our tummies were satisfied and we had a lot of fun with our friends. Breaking bread, or grilling meat, with buddies is cathartic.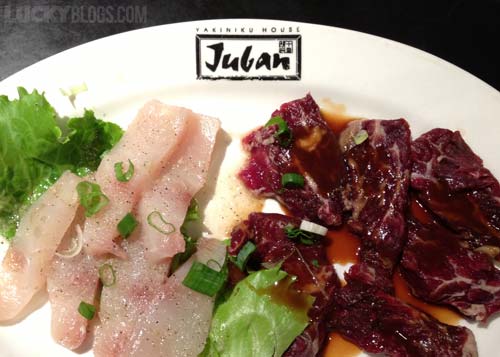 TRAVELING WITH ANOTHER FAMILY
The beauty of spending vacation with friends is YOU'RE ON VACATION WITH FRIENDS and can collaborate! Luckily the kids get along swimmingly, which meant they were mostly out of our hair hanging with each other instead of asking, "Are we there yet? Can we leave? When can we eat?" I don't think any of them said anything like that the whole trip. Both families brought snacks and food to share (plus did a Costco run to fix a tire) as well as helped corral each others kids so we didn't lose anyone.
I'd like to prove how much fun it was traveling with another family with a photo. We tried at Ghirardelli Square (you're handed a Ghirardelli chocolate when you walk through the store door), but this couple got in our way so they could pout at their camera while we all smiled at ours (that's us without me with a few extra tourists standing under the arch). A group shot of all of us can be seen in the Jelly Belly Factory Tour post (if you don't believe me or REALLY want to see our cute faces).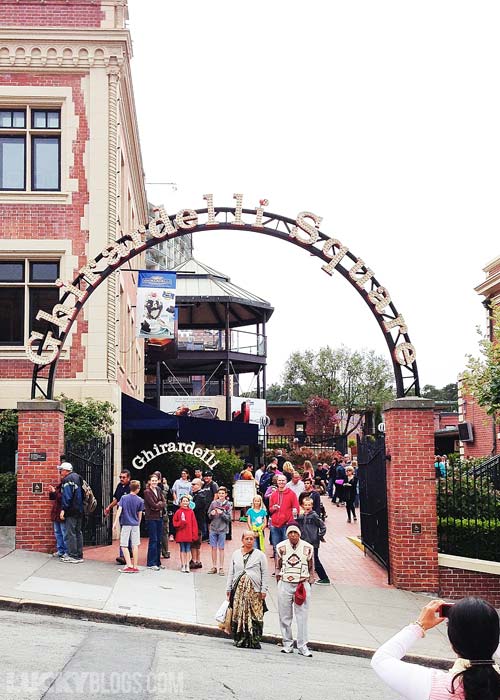 MIDCOAST CALIFORNIA LIFESTYLE
On the way to the coastal cities, you begin to see the laid back lifestyle. Lots of people walk everywhere, ride the BART, bus, and trolley leisurely. Speaking of… the trolley is a classic thing you'd think we would've done but it didn't work in our schedule or budget; it's not cheap!
Houses are well-maintained without being fussy, fashion waned from uptight to casual (although everyone dressed with purpose), and driving outside city proper wasn't as rushed (yet squirrelly the way the roads twisted and changed without warning).
This door wreath was one of my favorite things to see.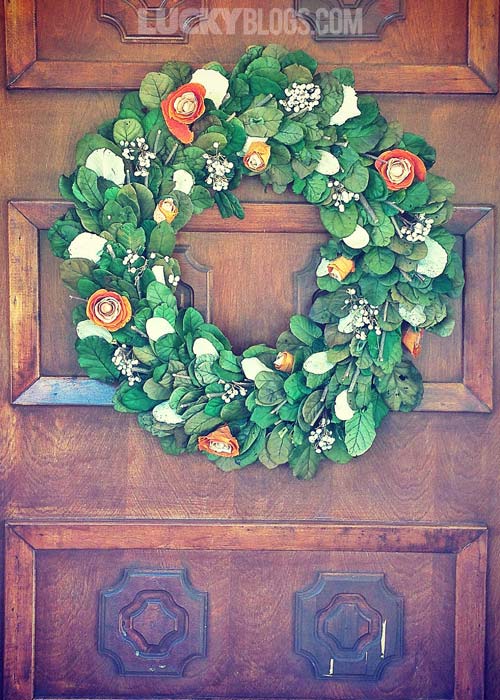 Parking and Transportation in San Francisco
Be warned that to cross any of San Francisco's eight toll bridges you might be shelling out between $4-6 for a normal passenger vehicle (depends on the direction). The traffic clogs up around rush hour like a frat house commode, so give yourself extra time getting places. The locals drive swiftly downtown, but seem to know what they're doing, it's the tourists who aren't sure where they're going that can make a mess of the hot spots. Some restaurants and event centers partner with nearby garages for a discounted day rate. You can find them online.
Never know what you'll see while driving down the road in San Francisco…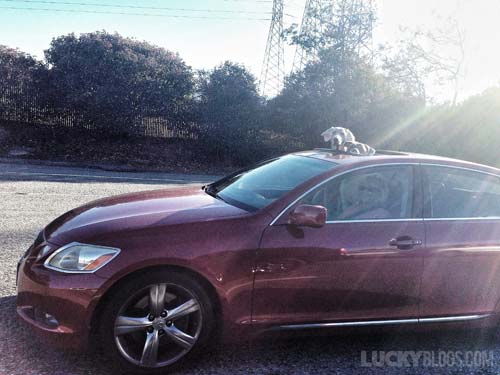 COIT TOWER on TELEGRAPH HILL
Unfortunately, we weren't able to find a parking spot to go inside Coit Tower. Go during non-peak times (there is only one road that gets you there) to avoid a long wait up the hill and to get a parking spot so you can go in.
Lillian Hitchcock Coit, the tower's namesake, was "smoking cigars and wearing trousers long before it was socially acceptable for women to do so" and known as the matron saint of firefighters. My kind of girl.
Another tidbit about Telegraph Hill is the ferrel parrot and conure population that's been there for many years. Mark Bittner made an award-winning documentary, The Wild Parrots of Telegraph Hill, that showcases his relationship with the wild birds and their relationship with each other. We didn't see any when we were there, not for a lack of trying, but heard them through our opened car windows as we wound our way up and down the narrow road.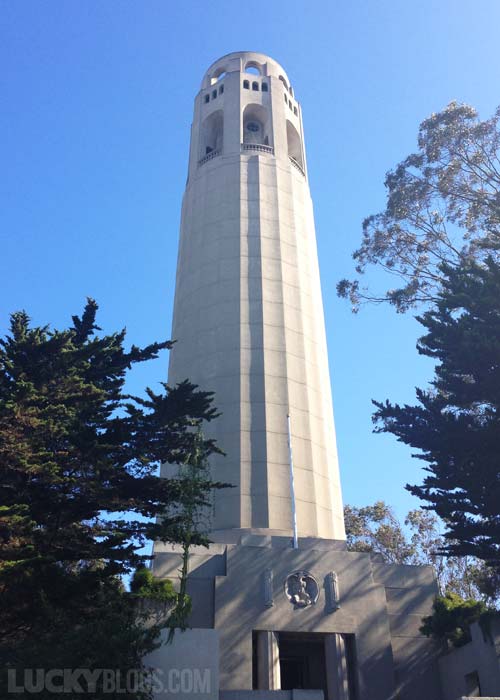 Other San Francisco posts:
Tours by Bus
Muir Wood Redwood Forest
San Francisco China Town
Mavericks Surf Beach
Jelly Belly Factory Tour
Private Beach Day